World fooled by German Lawyers!
 Hands up if you were fooled too by last week's viral video – Für Laura – showing a recently divorced man using power tools to literally divide the couples possessions in half. Nothing was spared from the scorned gentlemen's wrath including a severed iPhone, TV, bed frame, bicycle and even the couple's car! He then proceeded to auction off 'his half' on eBay. The video, which now has over 6 million views turned out to be a PR stunt, thought up by German online legal magazine, Deutsche Anwaltauskunft. The intention of the stunt was to humorously point out the danger of potentially bitter divorce settlements and bring awareness to the protection a marriage contract could provide. 
Lingerie brand fail!
Triumph Lingerie has issued an apology after publishing a creepy advert in a Sri Lankan newspaper ahead of Father's day. The advert was meant to highlight a 15% discount sale in one of Colombo's malls and instead went viral for all the wrong reasons. The brand has since apologised on Facebook, saying that it was "a major lapse of judgment and process on our side."
Triumph International is a global brand operating in many countries around the world with independent marketing activities in each country… there was no intention to offend and the team in Sri Lanka is examining its internal processes to ensure such lapses do not occur in future."
Ford cars – What about Ford Bikes?
What happens when a car company turns it's hand to manufacture two wheeled modes of transport? The foldable MoDe: Flex eBike has many features that will improve the safety and experience for the cyclist. Users can navigate their route by simply connecting a smartphone to the handlebars, a 'no sweat mode' alters the aid of the electric pedal assistance to your heart rate and when a car is about to overtake, the handlebars vibrate to alert the cyclist. These features are just the beginning of 21st century bikes.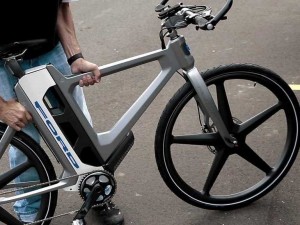 Shh! Google is listening
Google are involved in yet another privacy scandal after privacy advocates claim the voice-recognition feature in Chromium can be involuntarily activated. Google claim that there is "no immediate threat" as the feature was designed with privacy and security in mind, however some worry the feature could be used as part of criminal activity.
And Finally…
Spanish comedy show El Hormiguero dressed 20 year old skating sensation Danny Leon as an 80 year old man. The skilled acting, along with heavy makeup and dress sense of Leon fooled locals at the Legazpi skate park in Madrid.  Bystanders reactions are truly priceless when the 'elderly gentlemen' first seen hobbling awkwardly on the board starts to land backflips.