Those of us on Twitter and Instagram will all have that one friend who insists upon using #hashtags #with #every #single #word. If you are one of those people, please stop it. Stop it now. In a week that Scrabble has started selling their new dictionary which includes the word hashtag – along with selfie and chillax – here are some tips on how to use them effectively for business.
The idea behind hashtags is simple, they make it easier to search for people talking about things you're interested in. This could be business related, for example, I check #journorequest and #commschat on a regular basis. It can also be handy when I want to keep up to date with news of my beloved home town club (and undoubtedly the finest football team there is) Ipswich Town Football Club. A quick search for #ITFC will let me know whats going on and see the opinions of like-minded fans (for those of you who dont follow football, Ipswich are as dominant in the beautiful game as Google are in the search engine landscape, honest).
Hashtag #fail
From a marketers point of view, hashtags can be a wonderful thing. You can see what people are talking about and look to incorporate this into your marketing and communication strategies. Better yet, you can use social platforms to look to turn people into brand advocates. That being said, all that glistens is not gold and there are some very high profile social faux pas of Gerald Ratner proportions.
The worst of these cases tend to follow a typical pattern: A news story breaks, people talking about it on social use a hashtag, a brand sees this and wants people to be talking about them so jumps on to the hashtag, this ends up going badly. Very badly.
Kenneth Coles insensitive joke appeared during the uprising in Cairo, which saw reportedly 300 people die and over 3,000 seriously injured.
Snack brand Entenmanns tweeted asking their followers about eating their tasty treats. It seemed harmless enough, until you consider that at the time, #notguilty was trending the conclusion of the high profile Casey Anthony trial.
Furniture retailer Habitat took this a step further. The company actually paid for promotional tweets based on trending topics. Not the smartest of tactics in the first place. I'm not a True Blood fan, but if I was tweeting about the latest episode the last thing I'd want – other than a spoiler – is an unrelated brand jumping in to promote their newsletter. This backfired further when one of the hashtags was a discussion about events in Iran at the time. Using political disarray to boost brand traffic episode was less than stellar.

Hashtags done right
Adidas have been widely praised for their social media efforts during the recent FIFA World Cup – their #allin hashtag generated over 570,000 mentions on Twitter and their YouTube audience grew by over 200,000. Whilst other sportswear brands sponsored players throughout the tournament, no others got the same type of social interaction. The key to Adidas success over its rivals started with the preparation.
Prior to the tournament Adidas and its social agency had amassed over 1,000 images and 160 videos ready to unveil on their social platforms to cover every eventuality. They created an hour by hour calendar of the tournament with plans for different scenarios. This meant they were able to execute pre-planned campaigns quickly and in real time, maximising their impact. Below are just a few of the Tweets featuring one of the stars of the World Cup, Adidas sponsored Colombian James Rodriguez  .
Before Columbias World Cup campaign.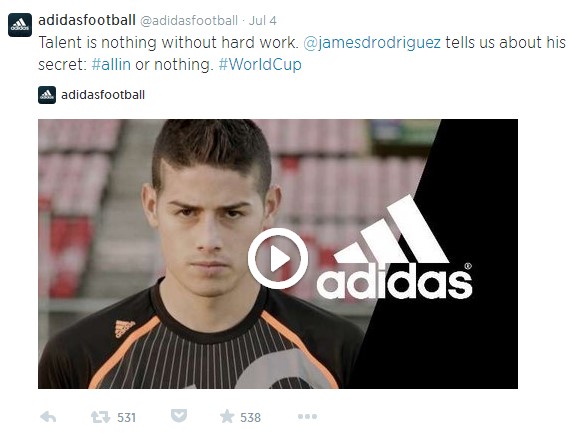 During Columbias World Cup campaign.
After Columbias World Cup campaign.
Whilst not all businesses have Adidas marketing budget or access to 100 sponsored players in one of the biggest sporting events in the world, there are still relevant tips that can help boost your businesses use of hashtags.
Think ahead – Adidas spent a year collecting the images and preparing for the event. Whilst this isnt practical or realistic for all businesses, Twitter fails are usually tweets sent in haste to try and capitalise on breaking news.
Brand identity – Hashtags are a great way to support your brand or campaign. Everyone knows that #allin is Adidas. The important fact is to find one that is unique to your business, so make sure you search all social platforms to be sure that you can dominate your chosen hashtag. Also, brevity is king on social so keep it short and to the point.
Integration – Too many times social is seen as a bolt on to an existing campaign. To maximise efficiency it needs to be integrated within the wider campaign. For example, Adidas featured its hashtag on both TV and print adverts. This raised awareness of it and helped to prevent any guerrilla tactics.
Trending Hashtags – Acting on trending hashtags is fine but remember the golden rule – dont be an idiot. If the hashtag is not about your business do you really want to get involved? If nothing else, it is deemed as poor social etiquette and could lose you followers. However, if it does have relevance, then engage with users talking about the topic.
Listen – Social isnt all about promoting your brand. Listen to what your consumers and other like-minded individuals are interested in. Business-specific conversational hashtags are also great for research. A small business, for example, would benefit from checking #SMB.